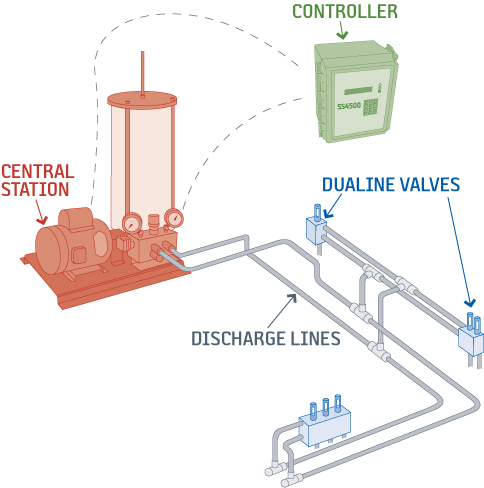 Dual line lubricating systems are found in virtually every industry in which continuous duty operation is required. From steel production to pulp and paper, from mining equipment to machine tools, automatic application of the lubricant provides significant benefits to the equipment user.
COMPONENTS
– Valves
– Reversing Valves
– Central Stations
– Controllers
ADVANTAGES
– They are economical for a system having more than 20 bearing points.
– Lubrication points can be added easily without redesigning the total system.
– A blockage between feed line and bearing will not shut the system down; remaining bearings will continue to be lubricated.
– There are positive lubrication indicators for each bearing point.
– They have the ability to positively displace a broad range of lubricants from light oil to grade 2 grease.
– Lubrication discharge volume at each bearing is fully adjustable even after start-up.
.